Farewell to Arms?
A new exhibition by The Peace Museum which challenges existing thinking has been opened in the Royal Armouries in Leeds. Entitled 'Farewell to Arms?' it is the result of the two museums working together. The Armouries – a national museum showing swords, guns and armour in history – wanted to go beyond the display of weapons of war. The Peace Museum in Bradford wanted to take the opportunity of challenging a wider audience on the place of such weapons in the world.
The deal was that the Armouries paid for and housed the exhibition, while The Peace Museum had complete control over the content.
This permanent exhibition was opened in November in a smallish space on the second floor of the large Armouries building. It contains photos and text, film and artefacts, all geared to the central theme. The exhibition motif is entwined rifles with their barrels curved together into a heart shape. The title has a metre long sword bent into an f. A DVD shows a blacksmith bending the sword to shape.
There is a chair made from guns. The arms trade is examined, including noting that there was some English cannon on the Spanish Armada. It shows how women were instrumental in the banning of gas warfare and land mines. There are other people who have made a difference, including showing a replica of the Nobel Peace Prize medal of Joseph Rotblat who walked out of the atomic bomb project. There are questions as to what you can do.
The exhibition takes visitors on from the artefactual violence of the main museum to exploring swords into ploughshares actually and metaphorically. It remains to be seen how that message is perceived by the visitors.
There is free entry to the Armouries and to the Farewell to Arms? exhibition. A post card giving images and details is available (free with SAE to The Peace Museum office, Jacobs Well, Manchester Road, Bradford, BD1 5RW).
Peter Nias
The Peace Museum
January 2007
Some images for possible use below.
322 words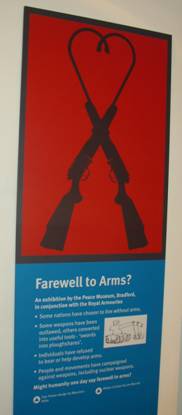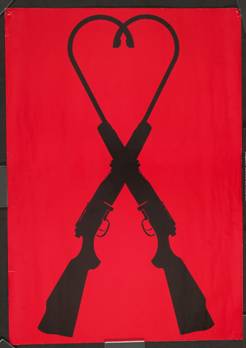 The entwined guns motif 'make love not war' angle.