ARC Actions
Implement Article 26 of the UN Charter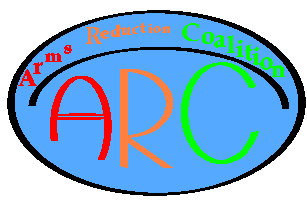 Arms Reduction Coalition is leading a campaign to encourage the United Nations to 'Implement Article 26 of the UN Charter' by reducing the diversion for armaments of the world's human and economic resources by a set percentage each year.
Implement Article 26 of the UN Charter
About the Arms Reduction Coalition
Arms Reduction Coalition Leaflet
Arms Reduction Coalition Petition
The Proposal
Background to the Proposal
Comments on the Proposal
Quotes related to UN and armaments
Links to some relevant sites
ARC Arms Statistics Links
Example Calculations of Diverting Financial resources from Arms
Below are some suggestions of actions you can take to help achieve Arms Reduction.
Also refer to How you can help to advance ARC.
Support or join ARC
Support or join our Supporters
Get involved with and Support Some ARC Supported Campaigns
Write your Governments and representatives asking them to support the formation of a Peace building Commission at the UN as recommended in A more secure world: Our shared responsibility'. Report of the Secretary-General's High Level Panel on Threats, Challenges and Change http://www.un.org/secureworld/
Lobby your governments to have a Ministry of Peace. see http://www.ministryforpeace.org.uk
Write ARC letters and articles to local radio and newspapers.
Encourage students to commit to using their knowledge for the benefit of mankind, the earth and its inhabitants; by agreeing a pledge or Oath similar to the Hippocratic oath. See Pugwash Group
Encourage universities to have an Ethics component / topic in all their courses.
Ask universities to publish the extent of their involvement in arms research and development.
Lobby your governments to have more peace education in accordance with " The UN Study on Disarmament and Non-Proliferation Education, (A/C.1/57/L.7/Rev.2)
Encourage students, trade unions, academics and political parties passes ARC like resolutions.
Suggest alternatives things that the resources being used for Arms and the military can be used for such as things that can be made in Arms factories.
When people working on development, poverty reduction. MDGs, environment etc are short of resources they go to the military and borrow some of theirs. For example when they are told there is no trucks to transport their supplies they ask the military to use those lying idle in the barracks to transport their supplies. Or ask the military for soldiers to plant food in the fields or build irrigation structures instead of them just marching up and down like tin soldiers.
Note: Estimated amount required to implement the Millennium Development Goals over 15 years $750 bn , Amount that will be spent on arms over same 15 years $12,000 bn. Current projections MDGs under funded, targets not met, many will die; arms spending increased, resources wasted, terror increased, many will die.
Here are some actions you can take to support ARC:
Signed the ARC petition, or Make a Donation, Endorsed the ARC Resolution or Become an ARC member.
You can purchase our goods and services on the ARC web shop or by post using our order form.
Sponsor ARC. For example at www.asinspired.com As Inspired donate £0.50 of every order to ARC.
Do use our Guestbook or email us at info@arcwebsite.org,
Complete the ARC Feedback and Arms Reduction Survey Form
Remember the next time you are told there are no resources (funds) for schools, health care etc; quote the amounts spent on arms.
Thank you for visiting out web site. Can you hear the "hear the small voices of peace in the wilderness of the many sounds of modern life." Listen to this speech set to music.
Visit Our Letters, Reports, Books, Guestbook, Free For All Links
Web Shop, ARC Feedback and Arms Reduction Survey Form Sections.
Submit your letters, articles or emails on arms reduction and disarmament, or relating to Arms Reduction Coalition's aims by emailing us at: info@arcwebsite.org . All writers must provide a full name, home address, email and telephone number. Also indicate if you are an Arms Reduction Coalition Member, and if we can publish your email address. Letters should be no more than 10kb and are subject to editing. We cannot guarantee to put up everything we receive.
Disclaimer: Arms Reduction Coalition does NOT necessarily support the views and policies of the Organisations and documents listed or contained in any items or articles on our web site. For details of Arms Reduction Coalition views and policies email our Chair at info@arcwebsite.org
Join our Email list to receive emails about Arms Reduction Coalition's and other group's activities and articles.
Email: info@arcwebsite.org